I have a confession: I LOVE children's books!!! Specifically, I love looking at the pictures of children's books. I borrow as many as I can from the library for my own pleasure. Here are some favorites, both to own in the house for the good messages, and to just enjoy the pictures or story.
To Teach Behavior
Potty
by Leslie Patricelli
I've looked through several potty books for kids and really liked this one:
Leslie's drawings and words are very, very simple, which is awesome b/c you don't need a lot of complicated explanations!
No No Yes Yes
by Lesli Patricelli
More very simple instructions on acceptable behavior, and unacceptable behavior! For example: dumping a bowl of food on your head? No No! Eating nicely from said bowl? Yes yes. I found mine at Marshall's for like $3 and its been worth it!
For the Joy of the Pictures
Mossy
by Jan Brett
I LOVE moss so it was important to check out this book, and the illustrations do NOT disappoint!! Its the story of a little Eastern Box Turtle who starts growing a wild garden on her back. This wild display attracts the attention of both a handsome young turtle, and an aspiring museum owner! I loved looking at all the different moss types illustrated so carefully.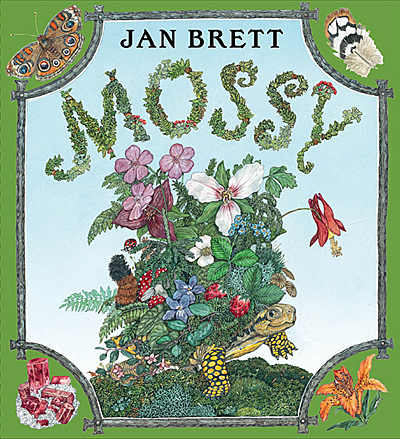 Molly and the Magic Wishbone
by Barbara McClintock
Barbara McClintock's tiny details and gentle kitty cat characters were so charming. I am not crazy about all the reference to magic in children's books, but I was willing to overlook it for the adorable cat family's children. You can also check out her other books, including Dahlia.
To Teach Islam
Golden Domes and Silver Lanterns
by Hena Khan
I was so excited when my mom borrowed this book from her library for my girls! I ended up buying Princess Buttercup her own copy, and we recently had it signed by the author! It takes us through a Muslim girl exploring her Islamic heritage, from her mom's blue hijab to the golden domes of the local masjid,
Aminah and Aisha's Eid Gifts
by Fawzia Gillani-Williams
This is a very touching story about a Muslim family who think of other's needs during the exciting time of Eid. I really appreciated the message and thought it made a wonderful story. It was well-written, which doesn't always happen when we are looking at Muslim books for children, unfortunately. However, I am hoping there will be a whole new era of great Muslim children's books! You can find this on Amazon.
My Little Golden Book About God
by Jane Werner Watson
(Illustrated by Eloise Wilkin)
This next one is one of my all-time favorites!!! I use the word "Allah" where it says God, and it honestly sounds like it was written by a Muslim. It provides a great spiritual overview of our relationship to Allah, the Creator, who is still loving and near. Eloise Wilkin's very innocent illustrations really make this book. To me, it captures the purity of children, and the beauty and innocence of their little hearts. I also love this book b/c I very vividly remember reading it as a child. Or rather, I don't remember reading it at all, but I remember the pictures!